What about a presidential Week end in India ?
(With all my apologize for so late news!!)

First of all I would like to ensure I made everything required to get the proxy vote with my brother Laurent. But unfortunately, he is not able to drop the ballot for me because in one hand he has a surfboard and probably a Caipirinha in the other… in Rio de Janeiro! Anyway…
Some friends from Bangalore reached Pondicherry for the Week end. So I went in this old French colony to enjoy French restaurant, beach and fresh air. Of course I went with my auto rickshaw, fly me… to Pondy! Because he is a good boy he didn't cheat with any injuries and it was 4 hours of pure pleasure. The road between Chennai and Pondy is beautiful and green.
I reached our guest house in Auroville (5km from Pondy) at 10 am and it was already too hot!
There I met Venul, a very coooooool guy who enjoy the surfer's way of life, and who smoke it all the day. Front of the guest house, the beach with lot of local people, just watching the two kite surfers coming from nowhere!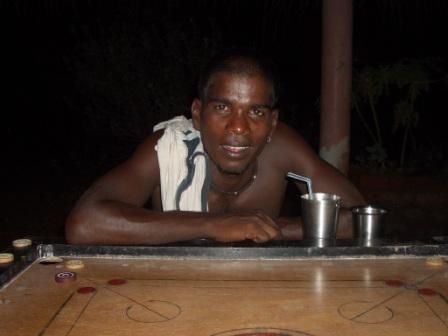 Veelu, surfer fowever

Te guest house was this kind of paradise you wish to reach once in your life! Enjoy...!
I met also an American boy, Shasta. He is a Skateboarder (body and mind) from Florida. He impressed me with two things:
The way he is skateboarding at 2pm with 40°C and 90% humidity
The number of fu**in' he can shoot in one sentence!
Shasta is a pure product of the American free ride. He told me he is skate addicted. I didn't know it was possible. He said: "Another skate maniac stayed in Pondy for two years and built a skate ramp in concrete. So I am here with my professional video camera for a movie about skating in ". Then I understood.
Even if I try, I can't describe the hour we spend with him in the Indian skate park. Just imagine an American skater, an Indian with a moped and a French with a rickshaw trying to catch some new tricks… I had my time on the ramp with fly me. Free ride has a new master!
Now, I am waiting to see this video, maybe soon on the screen! Who knows?!
The evening was a THE full heart time of the week end, with a marvellous dinner at the "Rendez-vous", one of the best french restaurant of Pondy. Even if I try I will not say enough to describe the presidential "coq au vin" I had there. Me farcir l'emplumé national lors d'un week end presidentiel indien… ya du lourd!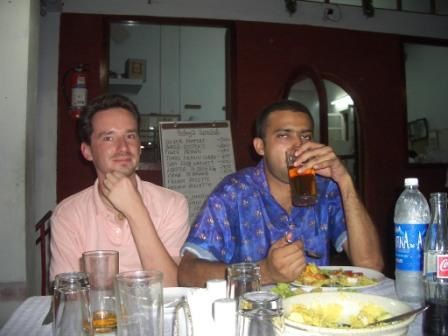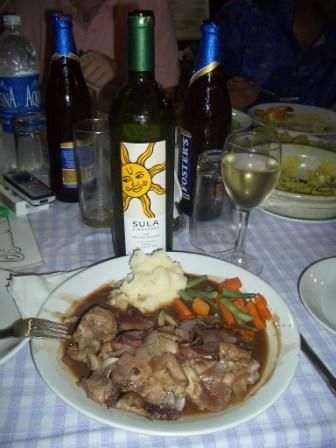 Patrick and Kunal (Pat & Kuku)

THE coq au vin

Next point will be in Sri Lanka
A bon entendeur…